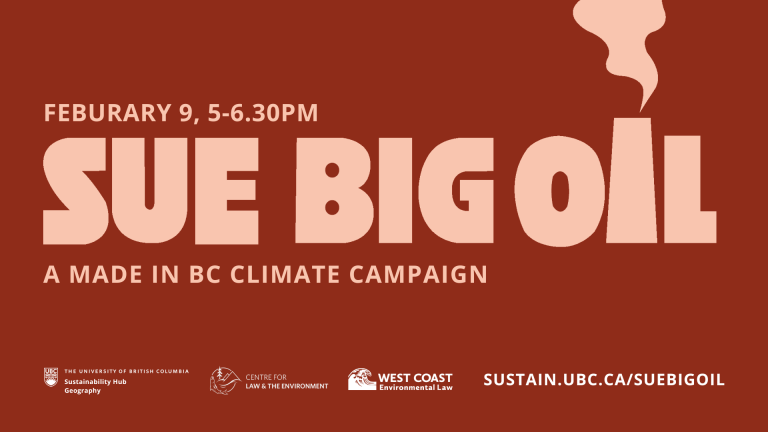 FREE IN PERSON* AND VIRTUAL TICKETS
Light refreshments will be served
In July 2022, Vancouver city councillors voted 6-5 in support of a motion to set aside about $700,000 — roughly $1 per every Vancouver resident — to fund litigation against Canada's biggest producers of oil and gas.
Join leaders from UBC, West Coast Environmental Law, and Vancouver City Council to find out what this means. With law professor STEPAN WOOD, activist FIONA KOZA, lawyer ANDREW GAGE, PhD student MANVI BHALLA and Vancouver City Councillor ADRIANE CARR. Moderated by filmmaker and geography professor AVI LEWIS.
Presented by the Department of Geography Climate Action Committee, Centre for Law and Environment, West Coast Environmental Law and UBC Sustainability Hub.
This event is part of Climate Emergency week at UBC, which seeks to convene and energize communities of climate action at UBC.
Join other events, workshops and activities during Feb 6-10, and take collective action for justice, people, and our planet.