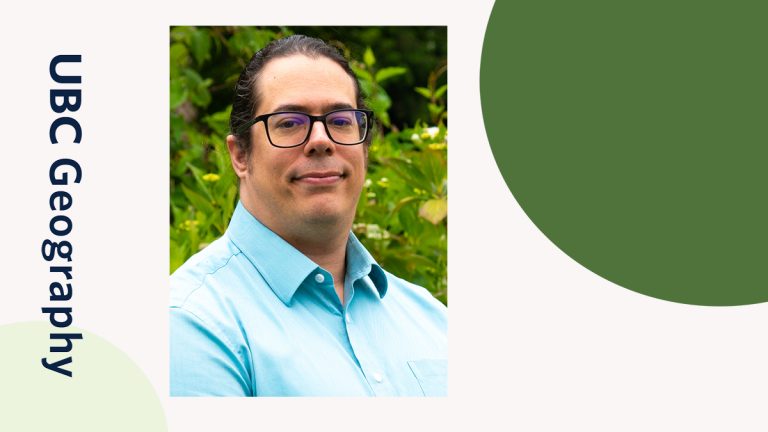 Michael Fabris joins the UBC Geography faculty this year as Acting Assistant Professor. 
Currently wrapping up his PhD in the department, Michael's research was disrupted by the COVID-19 pandemic — as has been true for many geographers.
Here, he talks about that experience, how he's looking forward to making the transition from student to faculty member, and the importance of creating space for Indigenous perspectives in geography.
What is your background, and what made you choose geography as a discipline?
Honestly, I originally ended up in geography by accident! When I was doing my undergrad, I didn't really know what geography was. So I decided to take it up as my major, and immediately found it really interesting. 
Obviously there are lots of different approaches within geography, but the balance of theoretical work with grounded research, like case studies, has always really appealed to me. My own research that I'm doing now in a lot of ways is more Indigenous studies than geography. But when I'm looking at Indigenous political movements, assertions of our own forms of law and jurisdiction, or our interactions with settler colonialism, these are all inherently very spatial relationships. And of course, our relationships with our territories are inherently spatial. So I feel like geography has been a good fit for my approach to Indigenous studies.
I did my undergraduate at Simon Fraser University, and my PhD at UBC Geography, so when the opportunity came up to apply for a faculty position here, I felt there was an opportunity to continue with a lot of the things that I had already begun as a graduate student. Not just in terms of my research, but also intervening within the department. There are different attempts to open up more space for Indigenous perspectives within geography, within our department and beyond, and I think that the department is very much known for cutting edge, critical approaches to geography. I've definitely benefited from the work in the department over the years.
So I definitely hope I can continue to contribute to that tradition, but also open up that space that hasn't always been there for Indigenous perspectives and geography, continuing the work that Dr. Michelle Daigle and Dr. Sarah Hunt began during their time here. When I first started in the department, there weren't any Indigenous faculty.
Can you tell us a little bit about your work and research interests?
Right now I'm on the very tail end of my PhD research. I've been looking at the articulations between Indigenous and Canadian forms of law. In terms of case study, what I've mainly been looking at is my family's reserve community, the Piikani Nation, and the Nation's attempts to challenge the construction of the Oldman River Dam in the 1980s. This was a massive irrigation dam that was finished in the early 90s, and was constructed immediately upstream of our reserve. So the Nation tried to challenge the dam through lawsuits. There was a Lonefighters camp that was more of a direct action which attempted to halt the construction of the dam. We also participated in the Environmental Assessment Review. So I'm looking at the different ways that we tried to use our own forms of law, and also Canadian law, to maintain our relationship with the Oldman river and stop the damage to that relationship that the dam would, and did, cause. 
Is there a project you're currently working on? How has it been affected by COVID-19?
Originally, my PhD research was mostly going to be focused on the urban Indigenous communities here in Vancouver, on Tsleil-Waututh, Squamish and Musqueam territory, the urban community that I've been a part of for decades. But before the pandemic started, I just hadn't done a lot of interviews, and once the restrictions were in place I didn't feel like I had enough material to really continue with that. Luckily I was able to run with the other research on the Oldman River dam, and had already done a lot of that work. It's worked out in a way, but I've definitely had to really shift to more of a focus on doing archival research, as opposed to talking to people.
Once the restrictions fully lift, I definitely want to get back to more of a focus on urban Indigenous communities, and looking at what it means to be Indigenous in the city. Also, just the variety of experiences. Some of the people that I interviewed already are people whose territories the city is on, and then I also know a lot of people like myself who are urban Indigenous but from elsewhere — in my case, relatively far away. So those experiences; what it looks like to try and reconnect with our family and with our territories, and maintain those kinds of relationships even when living afar. 
Technically, I could have gone the route of doing remote interviews, but I just felt that for the kind of research I'm doing it wouldn't work very well. It's very conversational, but also in place. Some people I talked to, they really wanted us to go to certain places for our interviews. So, some of that grounded aspect, the Indigenous aspect of the research, I couldn't really do over the phone. 
So that's something I want to pick up once I'm able to. I did interview a lot of people from the Piikani Nation on reserve, well before the pandemic started, and even to follow up with a question or more information, looking at not just at UBC research ethics but our own protocols — it's really important to talk to people in person. You come to them with an offering. I did that for our first interviews, but I would be expected to do the same thing for follow up, especially when it comes to talking to Elders. I don't think it would be considered a very respectful thing to just call somebody up and chat over the phone. So, I'm definitely looking forward to continuing that more, once it's safe to do so.
What made you choose UBC Geography when you first joined the department?
I was familiar with a lot of the work in the department, and especially when I first started, I was interested in dynamics of dispossession in urban space. That was definitely a conversation within geography that was only starting to address the aspects of how Indigenous people and Indigenous territory fit into that. So that part definitely, but also engaging with other scholars on campus within what is now the Institute for Critical Indigenous Studies. That part really appealed to me because, aside from doing Indigenous geography, I'm very interested in questions of the critical political economy and critical approaches to law. So it's not just geography, but looking at UBC with respect to the Geography department, the Allard Law School, the Institute for Critical Indigenous Studies… There are a lot of people here at UBC whose work is in conversation with what I'm doing. 
What are you looking forward to in your first year as a faculty member?
I'm really looking forward to teaching. I really, really love teaching. I'm looking forward to working with both graduate and undergraduate students. 
Then I'm also looking forward to getting to know the rest of the department as a colleague. It helps, of course, that I've already been here but there are a lot of amazing faculty that I don't know very well, beyond the people on my committee. I'm also looking forward to seeking out collaborations with other Indigenous faculty here at UBC, beyond geography. There are a number of relatively new faculty on campus, in a variety of disciplines.
I think UBC as a whole has a long way to go, in terms of being a supportive space for Indigenous students, for Indigenous staff, or faculty. But I feel like with more and more of us here in a variety of positions, there's more of a critical mass — or hopefully we're getting close to that — where we can really make the change happen here on campus that needs to happen.