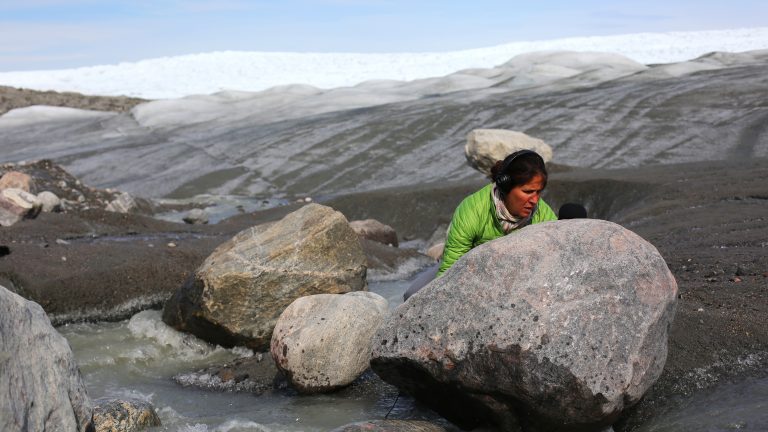 A sound installation by Dr. Michele Koppes and sound artist Susie Ibarra will go on display at the Jack Poole Plaza in Vancouver this Saturday, October 10th.
Water Rhythms: Listening to Climate Change is a sonic waterfall, created from the field recordings of glacier meltwater flowing from source to sink. It is the story of climate change, told by ice and water, and speaks to the rapid depletion of our glaciers.
Only 2.5% of water on Earth is freshwater, and of this, 99% comes from glaciers and ice sheets. As glaciers disappear in response to climate change, water availability and water quality are being threatened for the billions of humans and more-than-humans who live downstream.
Koppes and Ibarra collected the recordings in some of the world's most important water towers – the Indian Himalayas, the Coast Mountains of the Pacific Northwest, and the Greenland Ice Sheet.
Of their work, they say:
"Humans are inextricably connected to the Earth's freshwater: the same rhythms of glacial meltwater that flow from the mountains to the sea flow through our bodies, our histories and our music. A world losing its flowing water is hence a world losing its music, its culture and its humanity.
We invite you to listen to the water rhythms from mountains near and far, and contemplate the ways in which we are all intertwined by water, its beauty and its fragility."
The installation will be on display on Saturday October 10th from 9am to 7pm at the Jack Poole Plaza, beside the Vancouver Convention Centre.
It is part of Countdown, a global initiative from TED to champion solutions to the climate crisis.