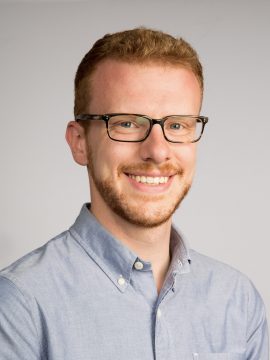 Douglas Robb is a PhD candidate at UBC Geography.
His research focuses on Canada's transition to a low-carbon future, and how that relates to water governance.
Can you tell us a little about your research?
My research broadly explores the intersection of landscape architecture and human geography. Currently, my PhD focuses on the political ecology of decarbonization in Canada through an analysis of landscapes of hydropower and hydraulic fracturing in northeastern British Columbia, specifically the areas impacted by the Site C Dam.
How does your research relate to climate change, and why is that connection important?
The COVID-19 pandemic has prompted Canadians to re-evaluate fundamental aspects of everyday life. We are increasingly told that our current historical moment offers an unprecedented opportunity to "build back better"; in other words, to envision a more just and sustainable society centred on decarbonization and climate justice. These goals are important, urgent, and necessary, and I believe that we can observe their convergence most vividly in contemporary debates surrounding the future of energy in Canada.
Why does working on climate change feel important to you?
All Canadians are implicated in debates over the future of energy, from landscape-scale infrastructure projects to the digital devices that increasingly mediate how we learn, work, and socialize. As a landscape architect and a geographer, I believe these debates present a valuable opportunity to re-evaluate the political, cultural, and social processes that underpin our relationships to energy resources, and to consider more just and sustainable pathways forward.
What's one thing you wish more people knew about your area of research?
Northeastern British Columbia is often considered "peripheral" by southern Canadians; I have met very few people who have had the opportunity to travel up to the Peace River country. And yet Canada's northern landscapes are being transformed—some would say sacrificed—in pursuit of large-scale energy and resource projects. I wish more people knew how beautiful, fertile, and ecologically unique the Peace River region is. Perhaps that might prompt people to pause and reconsider—or work to reverse! —the drastic changes that have taken place there.
How do you hope your research will effect change?
My research is very closely connected to my teaching practice in landscape architecture. My goal is to introduce my students to nuanced natural resource debates, expand their energy and climate literacy, and help train a new generation of activist designers who are able to imagine, design, and construct more just and sustainable pathways to decarbonization.
Conversations about climate change always feel urgent, and sometimes the scale and nature of the crisis seem overwhelming. What have you learned or seen in your work that makes you feel hopeful about tackling climate change?
I think there is a tremendous amount of work to be done at multiple scales, from our everyday patterns and behaviours up to the highest levels of government and industry. At the individual level, I think it's important to organize and apply political pressure. But it's also important to recognize that tackling climate change is a complex and collective effort. When I feel overwhelmed, I'm encouraged by the excellent research and advocacy by students and faculty in the Geography Department and across many other faculties at UBC.