We are in a climate crisis and we need to act.
In 2019, we declared a climate emergency. This is the most urgent issue of our time, further deepened by systemic injustices and colonialism.
As researchers, we are dedicated to answering questions about how the climate is changing, and how these changes are driven by human activity. As a community, we are committed to the work of climate justice.
Why do we need climate justice?
Climate change, and the extractive practices that drive it, most heavily impact those who have contributed least to the current crisis – many in the Global South, Indigenous and Black communities, and people of color.
We must ask how our global economies and societal structures can be reconfigured to tackle the climate crisis in a way that also battles existing inequalities.
Created in 2019, the committee is tasked with overseeing the implementation of UBC Geography's Climate Action Plan and exploring the actions we can take as a department for a better future.
2021/22 Members
Nina Hewitt (Chair)
Sara Knox
Michele Koppes
Suzanne Lawrence
Aaron Woods
Holly Denson-Camp (Project Assistant)
Ploykarn Kunkonlakarn (GSA Representative)
Audrey Irvine-Broque (Graduate Student Representative)
Aidan Haigh (Undergraduate Volunteer)
Aryanna Alikhan (Undergraduate Volunteer)
Paul Li (Undergraduate Volunteer)
Margaryta Pustova (Graduate Volunteer)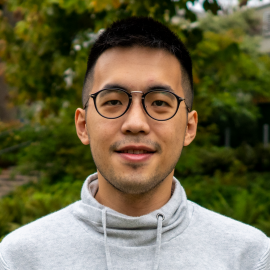 One of the things that motivates me to keep doing good science is because I have colleagues and students who will go out and try to make the world a better place. Being positive and hopeful is actually in itself an important way to combat climate change.
Sung-Ching Lee
Postdoctoral Research Fellow
Losing islands in the Pacific to sea level rise is not a foregone conclusion. We know that protecting reefs is one way to protect islands from erosion, and people in the Pacific Islands have been extremely active in advocating for climate policy.
Sara Cannon
PhD Candidate