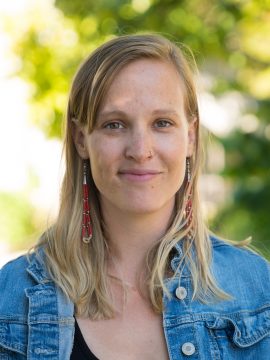 Sara Cannon is a PhD candidate at UBC Geography and the Institute for the Oceans and Fisheries.
She studies coral reef ecology and resilience, and you can learn more about her work on her personal website.
Can you tell us a little about your research?

I study the intersections between global threats (like warming sea surface temperatures caused by climate change) and local threats (such as nutrients, sedimentation, and fishing) on coral reefs in the central Pacific Islands. The scientific community currently disagrees about the relative importance of global and local threats, and how best to spend our limited resources to address these threats. Understanding the ways in which they interact will allow us to find effective ways to protect reefs as the climate continues to warm.
How does your work relate to climate change, and why is that connection important?

Climate change is arguably the largest threat facing coral reefs today. Even the most 'pristine' reefs – those that do not have any direct, human influence – are impacted by climate change, because increasing sea surface temperatures lead to coral bleaching. Many scientists argue that conservationists should not be spending time trying to address activities that cause local reef degradation, and instead we should focus all of our efforts to stop climate change.
But, other scientists argue that addressing local threats may make coral reefs more resilient to climate threats. However, scientists also disagree about which local management techniques are the most effective. For example, there is some evidence that marine protected areas could actually make coral reefs less resilient to climate impacts, so that they are less able to recover after coral bleaching, for example. We need to understand the ways that global and local threats may interact to affect reefs before we can help local communities and marine resource managers make informed decisions about how to best protect them.
Why does working on climate change and biodiversity feel important to you?

It's impossible to study coral reef conservation without considering climate change. Climate justice is an important part of this work because in the central Pacific Islands, people depend heavily on reefs for subsistence and income-generating activities. These communities contribute next to nothing to global emissions but will be the first to feel the effects of climate change. The ways that coral reefs are impacted by climate change is just one aspect of this; people in the Pacific Islands are also already experiencing changes in rainfall patterns that impact food and water security, increases in water-borne and climate-related diseases (such as those carried by mosquitos), and changes in erosion on low-lying islands from sea level rise. Healthy coral reefs are also important for protecting these islands from increased erosion that may accompany sea level rise.

However, focusing only on global change and not how people can work to protect reefs locally removes autonomy from people in the Pacific Islands. Communities have been successfully living on these islands, where environments change rapidly, for thousands of years. Some communities in the Pacific Islands understandably resent when scientists tell them that protecting reefs is out of their hands (for example, when the focus is put entirely on lowering global emissions). Protecting reefs through local management actions is one important way for local people to address the ways that climate change is impacting their communities.
 
What's one thing you wish more people knew about your area of research?

I wish people understood that communities in the Pacific Islands are not necessarily doomed to disappear because of climate change. Narratives about climate change in the Pacific often make it seem like the islands are already disappearing and cannot be saved. For example, there are often headlines about disappearing islands in the Pacific, portraying them as a lost cause. However, losing these islands to sea level rise is not a foregone conclusion. Some research has shown that atolls like the ones where I work are actually gaining land mass, and we know that coral reefs can help to prevent erosion (while providing sediments that can accumulate to provide more land mass).
Portraying saving islands in the Pacific as a lost cause makes it seem like it is too late to do anything to save them. This messaging is harmful for a number of reasons, not least of which is that it decreases the incentive for lowering emissions, particularly from those of us who live in the highest-emitting countries (including Canada, which a recent report from the United Nations Environment Fund found is currently emitting over 15% more than what is required to meet the 1.5 degree warming target set by the Paris Agreement).
Such messaging also removes any autonomy from people in the Pacific Islands, who have been extremely active in advocating for climate policy (the 1.5 degree warming target from the Paris Agreement, for example, was initially suggested by the late Marshallese activist Tony DeBrum). We know that protecting reefs is one way to protect islands from erosion, and local people may have the power to protect reefs around their islands. But again, we need to understand the ways that global and local threats interact so that we can understand the best actions to be taken to protect reefs on a local scale.

How would you like to see your research create change?

That remains to be seen, but I hope it will help to inform both local and global actors about how we can protect reefs in a future increasingly impacted by climate change. Stopping climate change is integral to the future of reefs, but I believe that we can work with communities in the Pacific Islands to support them in taking local action to protect reefs in the meantime. This may help to protect islands from erosion caused by increasing sea level rise. But first, we need to have a better understanding of the threats facing reefs and the ways in which they interact, and this is where my research comes in.
Are you involved in climate advocacy?

I am involved in advocacy outside of my research, and try to stay involved in my local community. In particular, anti-racism and decolonialism are two causes that are important to me. Both of these causes are closely related to climate and environmental justice. Black and Indigenous communities are disproportionately more likely to be adversely affected by climate change and other environmental degradation than white communities. Understanding the intersections between racism, colonialism, environmentalism, and colonialism is integral to addressing climate change in a way that is just and sustainable.

One example of this advocacy is a reading list I started that I hope will help fellow physical scientists like myself, particularly non-Indigenous scientists, do the work to educate ourselves about the ways that colonialism can be reproduced in conservation work. This Decolonizing Conservation Reading List is now available in three languages (Spanish, French, and English), thanks to two people who volunteered to manage the Spanish and French versions!

Conversations about climate change always feel urgent, and sometimes the scale and nature of the crisis seem overwhelming. What have you learned or seen in your work that makes them feel hopeful about tackling climate change?

I feel hopeful because the research about the future of islands in the Pacific is not as dire as you might assume from the news headlines. Some research indicates that swift climate action could stop or slow sea level rise in enough time for communities to be able to remain on their islands, particularly if we can manage coral reefs in a way that keeps them healthy enough to slow erosion and continue producing enough sediment to replenish the sediments that are lost to waves. People in the Pacific Islands are resilient and do not consider the loss of their islands a foregone conclusion (many people from different nations in the Pacific have organized under the banner, 'We Are Not Drowning, We Are Fighting', for example) and this also gives me hope. I continue to be inspired by climate activists and communities in the Pacific, which gives me the motivation to support their actions in the fight against climate change, both on a personal and professional level, through my research and my personal activism.