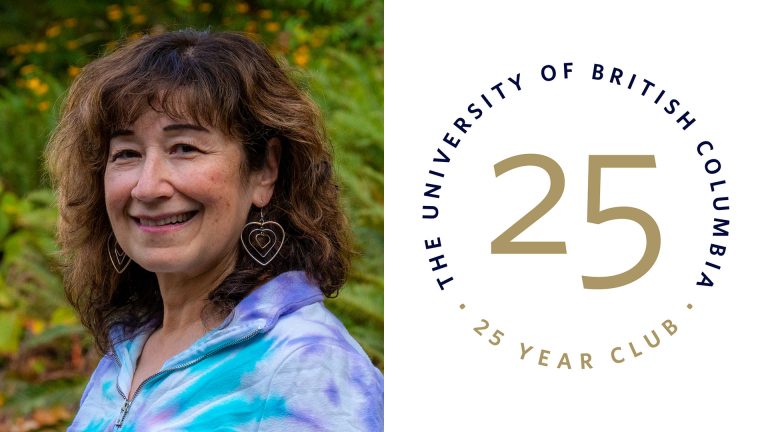 Our indomitable administrator Sandy Lapsky recently became a 40 year honouree of the UBC 25 year Club.
We all know that the department would simply fall apart without her, and Sandy has seen Geography through many ups and downs over the years — not least when we found ourselves confronted by the challenges of the pandemic.
Here, she reflects on her journey in the department so far:
After graduating with a BA in English in 1980, I didn't have any idea what to do — so I thought I would apply for a job at UBC.
I was successful in getting a position in the main office in Geography, and I moved from that to graduate secretary, then head secretary and then administrator in 1989. I loved working in Geography and was lucky enough to work for amazing heads of department. There was a vibrant community, I was young and there were opportunities to make friends and have fun.
No matter what happened in my non-work life, I felt loved in Geography. One of my favourite early memories is of playing hockey on Friday afternoons with staff, faculty and students. I had never skated, having grown up in Hong Kong, but I really wanted to play on this team, so I learned how to skate and Dr. Robinson was kind enough to practice hockey with me.
There have been so many fun times; lots of dancing at holiday parties; carol-singing at the UBC hospital; we once sent a Geography mug to Mark Madryga (a meteorologist at Global News) as he was one of our graduates, and he showed it on air; faculty retirement parties; so many lovely staff that I worked with and still keep in touch with; when a good group of faculty, staff and students did the walk for MS…
But the most surprising thing about working here is that I've been here so long! Originally, I thought I would be a teacher or an editor. But it was my first job in Canada and it was fun! I enjoyed helping people. It was a great place to work, with so many nice people, and I loved the grad students (they were my age when I started!).
Most especially I am grateful that Geography has been home through most of my life — it was my anchor no matter what was happening. Things have changed a lot in the last 40 years; the department has grown tremendously in the last while. There are many people I have not met and there is not enough time to get to know everyone. But I am so grateful for my time in Geography – so many wonderful people to care for, and to work with.