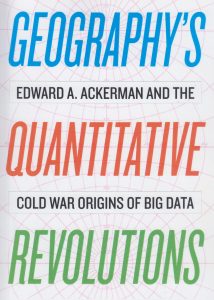 Do you have a smartphone? Billions of people on the planet now navigate their daily lives with the kind of advanced Global Positioning System capabilities once reserved for the most secretive elements of America's military-industrial complex.
But when so many people have access to the most powerful technologies humanity has ever devised for the precise determination of geographical coordinates, do we still need a specialized field of knowledge called geography?
Just as big data and artificial intelligence promise to automate occupations ranging from customer service and truck driving to stock trading and financial analysis, our age of algorithmic efficiency seems to eliminate the need for humans who call themselves geographers—at the precise moment when engaging with information about the peoples, places, and environments of a diverse world is more popular than ever before. How did we get here?
This book traces the recent history of geography, information, and technology through the biography of Edward A. Ackerman, an important but forgotten figure in geography's "quantitative revolution." It argues that Ackerman's work helped encode the hidden logics of a distorted philosophical heritage—a dangerous, cybernetic form of thought known as militant neo-Kantianism—into the network architectures of today's pervasive worlds of surveillance capitalism.
Publication Date: November 1st 2019