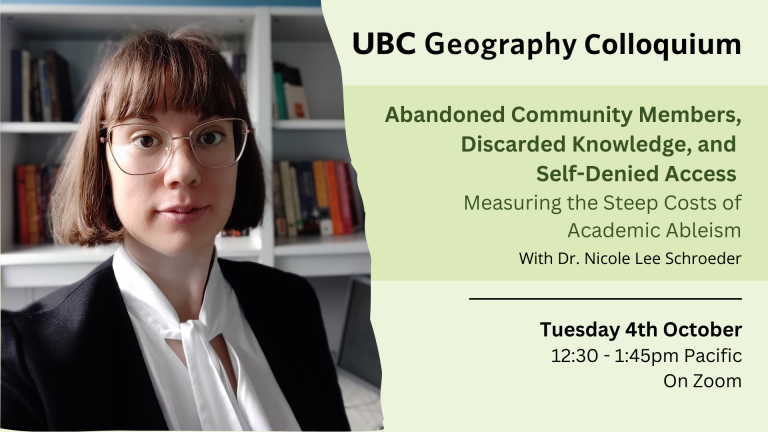 We are delighted to welcome Dr. Nicole Lee Schroeder as our next colloquium speaker on Tuesday October 4th.
Dr. Schroeder is a 2021-23 Equity in Action Postdoctoral Fellow at Kean University, and will lead us in a valuable and urgent conversation.
Abandoned Community Members, Discarded Knowledge, and Self-Denied Access
Measuring the Steep Costs of Academic Ableism
No matter what role we play on our campus, we work with disabled students, staff and faculty on a daily basis. And yet unlike other identity factors, disability is rarely brought up in conversations regarding equity or inclusion. Collective silence breeds misunderstandings. Inaccessibility persists in spaces where we neglect to openly talk about the experiences of disabled individuals in higher education.
Please join us for a conversation on disability and academic ableism.
Dr. Nicole Lee Schroeder, a disabled educator and founder of the Disabled Academic Collective, will lead us as our keynote speaker. Together, we'll consider the collective costs of academic ableism, and Dr. Schroeder will detail her own struggles with ableist practices in higher education. We'll work to understand how ableism functions and we'll hone our skills in anti-ableist practices. Participants will be introduced to new departmental resources to aid in these efforts as well.
This event will take place on Zoom, on Tuesday 4th October from 12:30 – 1:45pm Pacific.
Please register to receive meeting details.
Talk slides and a full script of the talk will be shared in advance of the event.
A fully captioned recording of the event, including a transcript of the discussion, will be sent to all registrants afterwards. Please register in advance if you cannot attend and wish to receive these materials.
If you need any additional support in accessing this event, please contact mary.halton@ubc.ca