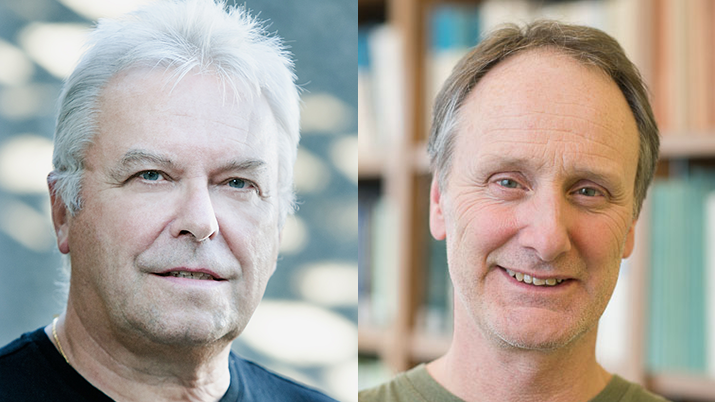 After prestigious and prolific careers in the department, we said a fond farewell to professors Derek Gregory and Greg Henry when they retired this June. 
We look forward to seeing them around the department in future as professors emeriti.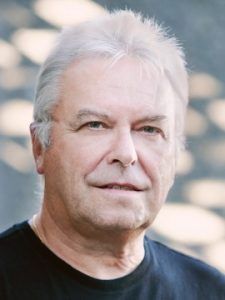 Dr. Gregory first joined the department as a full professor in 1989, having trained and subsequently taught for 16 years as an historical geographer at the University of Cambridge.
His early work focused on industrialization in Britain in the eighteenth and nineteenth centuries, but his move to Vancouver coincided with a growing interest in postcolonial critique. He began to explore cultures of travel and travel writing; in particular, how European and American travellers to Egypt in the long nineteenth century found the terms for cultures and landscapes for which they literally had no terms.
This work was interrupted by the terrorist attacks on the World Trade Center and the Pentagon on September 11, 2001. Thereafter, Dr. Gregory began to trace the long history of British and American involvements in the 'Middle East', and explore how these affected the cultural, political, and military responses to 9/11. His book, The Colonial Present: Afghanistan, Palestine, Iraq (2004) showed how war quite literally takes place, and described in detail the violent 'taking of places' not only in Afghanistan and Iraq but in occupied Palestine too.
His 2011 book, The Everywhere War went on to show how the conduct of modern war is shaped by the spaces through which it is conducted; ranging from the global war prison at Guantanamo Bay through counterinsurgency in Baghdad and the drone wars in Afghanistan/Pakistan to other 'small wars' fought in the shadows of 9/11 in Africa, Asia, and the Americas.
A later research project, Killing Space, was a critical study of the techno-cultural and political dimensions of air war. It paid particular attention to the changing ways in which cities (and eventually people) have been visualized as targets within what is now called the 'kill-chain,' and to the different ways in which the media have represented and reported bombing to different publics.
Dr. Gregory's honours include honorary degrees from one of Europe's youngest (Roskilde) and oldest (Heidelberg) universities, elections to the Royal Society of Canada and the British Academy, the Founder's Medal of the Royal Geographical Society, and the invitation to present the British Academy's Annual Lecture in London in 2012. He was named a Peter Wall Distinguished Professor in 2011.
His distinctions also include a UBC Killam Research Prize, and in recognition of his undergraduate teaching and graduate supervision, both a UBC Killam Teaching Prize and a UBC Killam Prize for Graduate Mentoring.
Of coming to the end of his teaching days, Dr. Gregory said: "Throughout my teaching career I have – honestly, genuinely – learned so much from my students at Cambridge and at UBC. They have challenged me with ideas and issues I hadn't considered, brought to my attention readings and sources I'd passed over, and forced me to clarify things I'd never been clear about in the first place."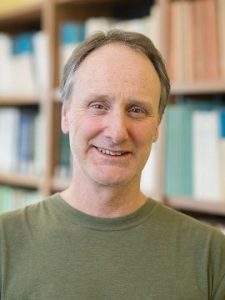 Dr. Henry completed his PhD at the University of Toronto in 1987, before joining the faculty at the University of Alberta. There, he helped to found the International Tundra Experiment in 1990, before joining UBC Geography as an Assistant Professor in 1992.
From the earliest days of his career, Dr. Henry was focused on the impact of climate change on the Arctic. Once at UBC, he established a warming experiment at what would become his main research site of Ellesmere Island – located at 79 degrees north in the Canadian Arctic. Designed to monitor the ways in which rising temperatures were affecting delicate Arctic tundra plant ecosystems, this is now the longest continuing warming experiment in Canada. Over 50 graduate students and postdoctoral fellows have conducted research at the site in its 30 years since its creation.
Meaningful collaboration with Indigenous communities was also an integral part of Dr. Henry's work, and he was a founding member of ArcticNet – a network of Canadian centres of excellence that brings together Arctic researchers, in partnership with Inuit organizations and northern communities.
One project which grew from this was a decade-long exploration of the climate-related changes to berry production in the Arctic. Berry picking and use is extremely important to Indigenous communities, and the project involved many community members, both in monitoring the berry plants, and preserving language and knowledge held by community elders. Kugluktukmiut elders and youth, along with masters student Sara Desrosiers, went on to publish The Berry Book, which is still used in schools today.
As a key figure in the Fourth International Polar Year from (2007 – 2008), Dr. Henry made efforts to invite elders to conferences and learn from their wealth of scientific information – something he felt terrestrial arctic scientists were lagging behind on, compared to their marine counterparts.
His goal was to encourage an education where students would learn to conduct observations both scientifically and through the knowledge of elders; to meld both ways of knowing.
Further to this mission, in 2015 Dr. Henry was founding Editor in Chief of the open access journal Arctic Science, whose mission stipulates that its science focus also include the traditional knowledge and observations of the Indigenous peoples of the region.
Dr. Henry's honours include the UBC Dean of Arts Faculty Research Award, election as a Fellow of the Arctic Institute of North America and Chair of ITEX from 2003 – 2012, where he remains on the steering committee.