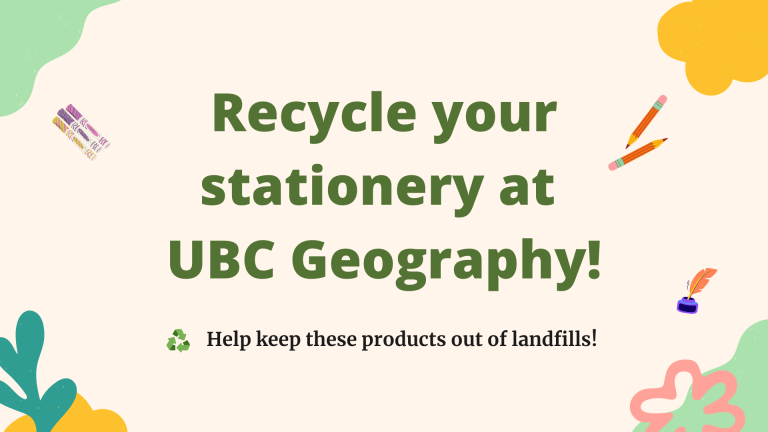 By Daniela Garcia
We are excited to launch a stationery recycling campaign this spring! All community members are welcome to join our small initiative that seeks to make sustainable practices convenient and accessible to everyone.
Pens and pencils can't be recycled through curbside recycling due to the ink and metal they contain. Instead, they get thrown in the trash out of convenience. While modern technology is slowly phasing out traditional writing tools, the stationery industry is still manufacturing big numbers globally; the UN reports a global estimate of 8 million trees chopped to manufacture pencils, and 9 billion plastic pens thrown away worldwide!
One of the solutions to tackle this waste is dematerialization. This strategy involves reducing the amount of material manufactured as much as possible, in order to transition to utilizing 100% recycled materials. Less manufacturing means fewer emissions, and fewer materials that would end up incinerated, in a landfill, or polluting our environment as microplastics.
As consumers, we can do our part by choosing refillable (mechanical pencils, fountain pens) or recycled writing tools; both are simple solutions that help reduce the amount of plastic material that is purchased by consumers, and produced to meet demands.
For any stationary you no longer use, it can now be dropped off at our bin Monday through Friday, 8:30-4:30 in the Main Office (Room 217).
We are currently accepting all brands of:
Ink and gel pens
Pencils (mechanical, colour, etc.)
Markers (chalk, acrylic, alcohol, etc.)
Highlighters
Through everyone's contributions, the collected materials will be sorted, cleaned and broken down into raw formats that manufacturers will use to make entirely new products, such as garden beds, park benches and playgrounds!
This initiative is made possible by the TerraCycle program, which works in partnership with a variety of brands to offer free recycling solutions for products that are difficult to recycle locally.
You can learn more about TerraCycle and the programs they offer on their website.