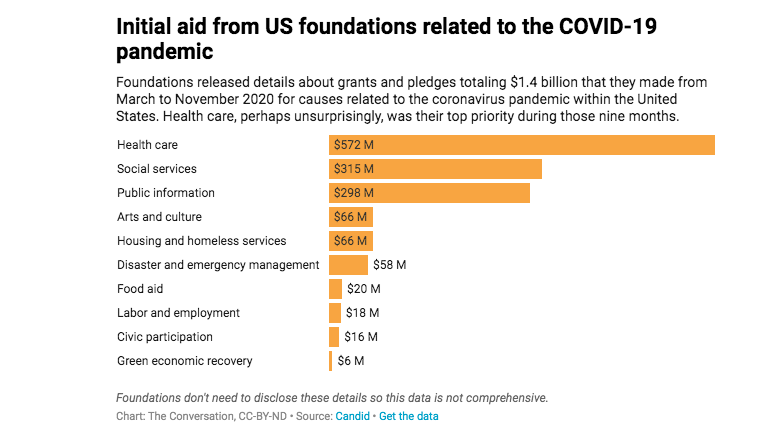 This piece was originally published in The Conversation, where you can read it in full. It was co-authored by Dr. Emily Rosenman from Pennsylvania State University, and UBC Geography PhD candidate Rachel Bok.
Many U.S. foundations, which disbursed roughly US$76 billion in 2019, say they are giving more money away in the United States because of the COVID-19 pandemic and the health, economic and other crises it's creating.
To get more insight, we analyzed nine months of data regarding roughly $1.4 billion in grants that 152 foundations pledged for causes related to the coronavirus pandemic in the U.S. and the economic pain it brought on.
A small number of the largest and most prominent foundations gave the bulk of this money away. The Bill & Melinda Gates Foundation, Bloomberg Philanthropies, the Andrew W. Mellon Foundation, the Rockefeller Foundation and George Soros' Open Society Foundations were among the largest donors.
A lot of the money foundations are giving away is addressing health care needs and assisting people facing economic emergencies, especially those hardest hit by the pandemic, including seniors, veterans, low-income people and survivors of domestic abuse.
Foundations are also increasingly emphasizing housing aid for people facing economic hardship and stepping up their support for food banks.
We also found that urban areas are receiving more money than rural regions. In Tennessee, for instance, the nearly $35 million that foundations provided was concentrated in and around the cities of Nashville and Memphis.
Some cities got more funding than entire states with comparable or larger populations. Atlanta alone received more than $65 million, which exceeded the value of grants designated for all states besides New York, Indiana and California.
In our opinion, this pattern raises questions of equity and accountability. Because many foundations focus on helping their local communities, the system of philanthropic giving in the U.S. contributes to inequality among places.