It is with profound sadness that we mourn the passing of our exceptional colleague and friend, Karen Bakker, on August 14 2023.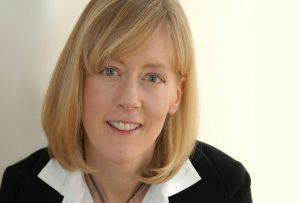 Karen first joined the Department of Geography at UBC as an assistant professor in 2002, having earned her PhD at Oxford University, where she was a Rhodes Scholar. Twenty-one years later, she leaves an astonishing record of achievement: as Fellow of the Radcliffe Institute for Advanced Study 2022-3; as recipient of a John Simon Guggenheim Memorial Foundation Fellowship 2022, a SSHRC Connection Award and Trudeau Fellowship in 2017; and as Stanford University's Annenberg Fellow in Communication, and Fellow of the Royal Society of Canada's College of New Scholars. She is the author of more than 100 academic publications and seven books.
In recent years, Karen brought her geographical fascinations with environmental perception and scientific world-making to the realm of sound. In The Sounds of Life (Princeton 2021), Karen builds a prismatic portrait of planetary ecology through the medium of chirps, buzzes, and low cetacean moans. The book garnered immediate critical acclaim, including from the very scientists it featured. It also reaches a broad public through her recent TED Talk. Karen's next book Gaia's Web (upcoming with MIT Press) explores how interconnected digital and natural networks will impact biodiversity conservation, environmental governance, and cultivate greater empathy for other species. Both books drew from her Smart Earth Project seeking to mobilize digital technologies to address some of the most pressing challenges of the Anthropocene.
Karen Bakker will be remembered too, for her fierce public engagement. She founded the Program on Water Governance at UBC, where she produced insightful analysis about the environmental, social and economic impacts of large dams like Site C and on a range of critical issues including water security, water privatization,  Indigenous water sovereignty, and the human right to water. Research results from these studies have circulated widely in the media, and connected diverse academic, policy, and practitioner worlds.
At UBC, and in the community, Karen was an outspoken advocate for equity issues, leading the pay equity process as the Chair of the Faculty Association Status of Women committee. She also frequently engaged local politicians on social and environmental issues of concern to the community—hosting meet-the-candidate nights and engaging in debate on key issues.
We will remember Karen as multi-faceted and superbly talented in all realms. Writing, speaking, researching, or chatting about any topic imaginable, Karen always had interesting things to say and could offer incisive commentary and engaged banter—whether it be about cooking, gardening, stand up paddle boarding, or the local food cart scene in Vancouver. Indeed, alongside her academic pursuits she authored award winning books about feeding children healthful food under her nom de plume Karen Le Billon.
Karen was above all a committed mother, partner, and friend. We know that she will be sorely missed because – indeed – we miss her ourselves. She not only transformed fields of knowledge related to water governance, neoliberal natures, and digital environmentalism, but also those who worked alongside her.  Her immense energy, passion, and intellect will be dearly missed. We grieve together with her family, friends, and all the communities of which she was a part.