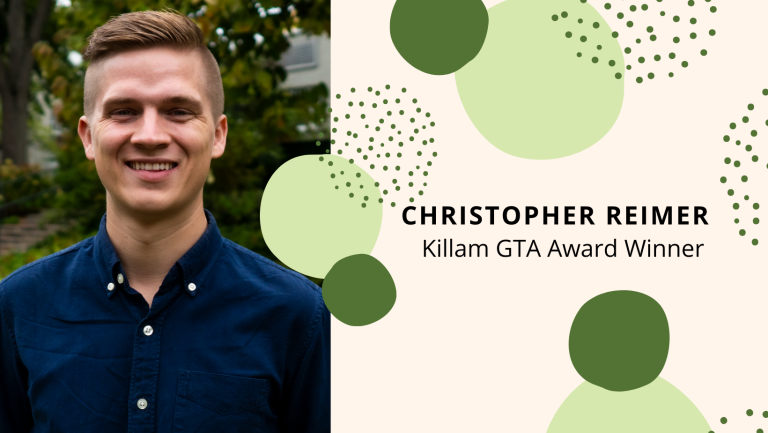 Christopher Reimer is a PhD candidate in political ecology at UBC Geography, and Chair of the Geography Graduate Association (GGA).
He received a 2020/21 Killam Graduate Teaching Assistant Award for his work as a TA during the first year of the pandemic, including the initial move to online teaching. 
Here, he shares what that experience was like.
How did you find that first transition from in-person to online teaching?
It was a challenging one, because I had my own health concerns. So I had to navigate that personally, at the same time as caring about my students, and making sure they were still learning. But also being kind to them and not forcing learning down their throats when there was so much else happening!
Luckily, I was working with Jess (Dempsey) who's amazing, and really open to feedback. So we had quite a few check-ins to ask: "Okay, what do we need to do to adapt? What do our students need at this moment?"
Before coming to UBC, I worked for international development organizations for four years, and I did a lot of virtual training. So it seemed the best thing to do was give people the opportunity for one-on-one conversations. We cancelled seminars and switched to a robust amount of office hours that were really open ended to try to be super flexible.
Those ended up being some of my favourite moments that I've had as a TA. You get to know students so much better when it's one-on-one. We were talking about their final paper, which was an argumentative paper that they self-designed about a passion topic in environmental justice. So we had really, really constructive conversations. Even though they were short time periods, it was more like what I want as an instructor – to have a personal connection with my students.
Was that format increasing your working hours a lot?
It would have if everybody took me up on it, but when we made this decision as a team, we were pretty confident that it was going to be just a subset of people. But honestly, I came to get my PhD so I could be a professor. I want to be at a teaching first institution. So that was my priority at the time; making sure my students were supported, and then doing my coursework second.
You've mentioned you were involved in training in your previous career. Were you always interested in pursuing teaching?
When I was in my undergrad, I always had the dream of being a professor. But I didn't really know what of, or when I would do it. So I changed my undergrad discipline six times, but by the end of that I wanted to be an international development non-profit employee.
I did that for four years, and I think the work I did in that role solidified that I did want to be a professor. Every time we had conversations about how we could better design our programs, or how I could tailor training to be better; those were the fun parts of problem solving. I thought it would be really cool to deal with students and their work in this way.
Did anything about TAing at UBC surprise you, when you started?
At first, it's really hard. At my NGOs, I knew what I was doing, and when I got here, I was teaching material that I hadn't read before. So I was reading it along with the students and then trying to facilitate a conversation about it.
You learn how to navigate the sense that 'I'm learning with you. I'm not an expert. I'm just here to facilitate our shared learning'.
I had way less confidence when I got here. I think that was a surprising part. You have a whole wave of questioning yourself and your abilities that you didn't have previously.
But the fun part was that I had to get creative, because I didn't want to just lecture. So I was trying to find ways to make seminars more interactive and fun. There were quite a few weeks where I was asking: "How do I make this understandable without just drawing things on the chalkboard?"
Before the pandemic, I designed a lot of games and interactive activities from scratch or loosely based on pop culture references. I was trying to find fun ways of engaging with the content that also didn't put me in a position of just explaining concepts all the time.
Are there any facets of remote learning that you are excited about and want to incorporate into what you do in the future?
The nicest part has been providing accommodations without really asking any questions, because that's kind of my stance to start with. Being online does make you question why we have these rules that are completely arbitrary. I hope that accomodations stay in place within our department and within UBC as an institution.
If I could take a lesson from what I've done so far, it's to offer way more contact hours on a one-to-one basis. It's a limitation of larger classes that most of the teachers only have one hour of office hours a week. Most of the really formative learning that I've seen has happened when students are talking through their papers with a professor, or with a TA. So going online or having some type of hybrid approach where you actually prioritize one-on one-communication would be really great.
Then concessions to just giving people extensions. It's ridiculous not to do that. We can be flexible with our workload, the university should be flexible with their workload.
What advice would you give to anyone who's starting out as a TA? 
Everybody struggles with imposter syndrome. I think that's the biggest thing for anybody as a new TA, especially if you're younger, or you appear younger.
So to start, just asking questions can sometimes be better than explaining. We're at UBC, so these are generally really great, committed students. You can rely on them to have actually done the readings, and someone will answer that question and start a conversation. That can be better than trying to feel pressured, especially in your first two or three seminar facilitations, to go on this massive professorial journey of drawing connections between things. You don't really need to do that; you just need to be there for your students and listen to them.
Honestly, the biggest role that you can provide as a TA is not to teach but to just make them feel like they have someone in their corner. So I think just being open and flexible and compassionate is the biggest thing. Don't try to pretend like you know everything, because then it doesn't go well!
Is there anything about the TA experience that you would like to see change?
I wish we had a little bit more co-teaching with PhD students and mentoring of teaching, not just mentoring of scholarship. I would love to see UBC provide grad students with an opportunity to build a syllabus, teach the class, reflect on the politics, what worked, what didn't, and what you would change and how you would make adaptations. I'm very thankful that I have had such opportunities later on with some other courses, but graduate students don't generally get that.
A lot of the TA contracts are to show up and deliver what's already been constructed, sometimes even with  pre-written weekly lesson plans. It would be great to start from the summer, help faculty build or update a syllabus, and then help teach it. To see that whole process through from start to finish as a collaborator – that would be my dream as a person who cares about instruction.