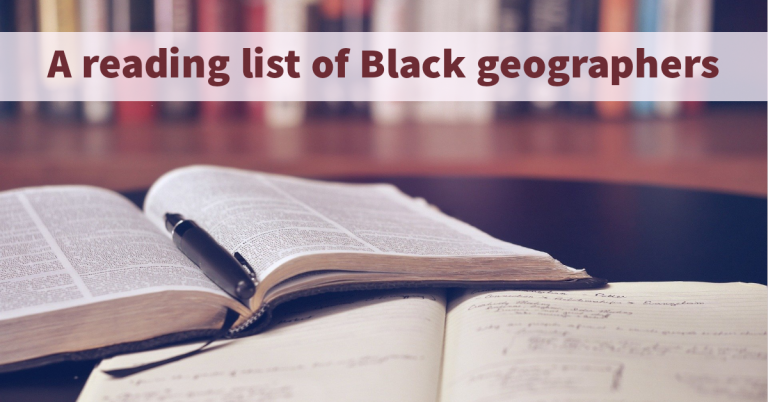 What follows is a collection of work by Black geographers, and additional recommended readings on Black geographies and anti-Blackness in the United States and Canadian contexts. It is by no means a comprehensive or exhaustive review of Black scholarship in this area.
This has been compiled by students, faculty and staff at UBC Geography.
We recognize that we as a department have a great deal more work to do in order to directly support scholarship on race, and Black scholarship in particular.
This list marks a small effort to use the privilege we have – knowledge and a platform – to uplift Black scholarship within our own community and beyond.
Work by Black Geographers
Reading Lists / Specialty Groups
Publications (free to access)
Protest, policing and the carceral state
Racial capitalism
 Urban geographies
Publications (paywall / require institutional access)
Books
Talks / Panels / Interviews
Podcasts
With thanks to Rachel Brydolf-Horwitz, JP Catungal, Jessica Dempsey, Michael Fabris, Albina Gibadullina, Kevin Gillard, Miriam Grant, Leila Harris, Micah Hilt, Mollie Holmberg, Bonnie Kaserman, David Ley, Minelle Mahtani, Terence Gary McGee, Isabella Pojuner, Geraldine Pratt, Juanita Sundberg, Gabriele Woolever, Elvin Wyly.
This is an evolving resource – please contact Mary Halton with additions, corrections or updates.