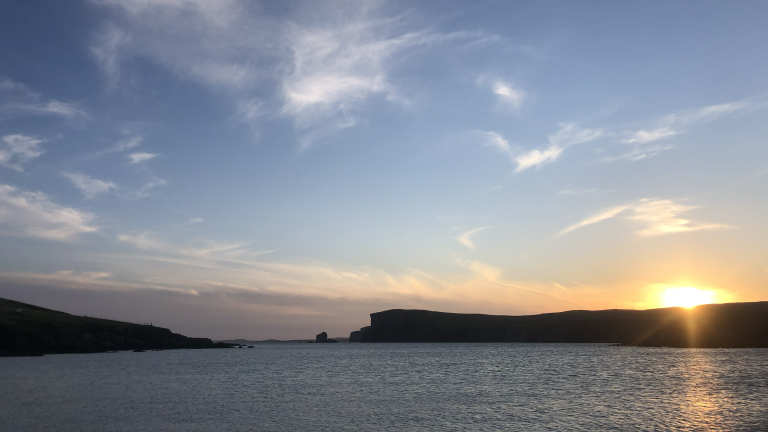 A world run on fossil fuels cannot be our future; this much we now know. Renewable energy is more efficient, cheaper, and imperative to address the climate emergency.
But moving towards a net-zero world means considering more than just our carbon emissions; it also requires sustainably shifting communities and regions currently reliant on the employment provided by industries like oil and gas to a new alternative.
This is part of a broader economic shift known as the 'just transition'; one that aims to see us move from an extractive to a regenerative economy.
Although just transition discussions are starting to appear at a federal level around the world, and Canada is in the process of drafting legislation, the issue is in sharp focus for remote communities, where economic opportunities are few.
In light of this, PhD candidate Max Cohen decided to explore the just transition process on the Shetland Islands, in his home country of Scotland. Situated in the North Sea, almost equidistant between the Scottish mainland and Norway, Shetland's territory encompasses around 60% of the UK's oil reserves and has had a booming extractive economy for decades.
Due to its location, it is also the windiest site in the UK, and has consequently begun an interesting transition process as one industry begins to wind down and another arises — both with very different scopes for job creation, financial enrichment for the islands, and environmental impacts.
Cohen spent several months in Shetland in 2022, followed by a stint in Taranaki, Aotearoa (New Zealand) which is going through a very similar transition process. His PhD project will compare the experiences of both regions by interviewing local stakeholders.
"Scotland and New Zealand both started Just Transition Commissions," he explains, "which were government bodies that did workshops and opened social dialogue with fossil fuel-dependent regions in their countries, to ensure that the communities aren't left behind in this shift to renewables. Both Shetland and Taranaki had the oil and gas industry start at about the same time, and both are very windy places that are now looking to build wind farms – so I was interested in the parallels."
Large oil discoveries were made in the North Sea, between Great Britain and Norway, in the 1950s and 1960s. By the 1970s, it became clear that piping fossil fuels directly ashore to the UK mainland wasn't going to be financially viable, and that the remote Shetland Islands would suddenly have a large role to play.
"The Shetland government realised that the British government and the oil companies needed Shetland more than Shetland needed them," explains Cohen. "So on that basis, they negotiated quite a successful deal. For every tonne of oil that came ashore, they took a penny. As a result, Shetland is now the second wealthiest council in Britain, after London, per capita."
Much like Norway, which also struck a highly profitable deal for the export of its oil reserves, Shetland invested a lot of oil revenues in the community; improving education and health resources, building roads and swimming pools, and supporting and modernizing what remains its dominant industry: fishing.
However, Cohen points out that there wasn't always a net benefit for Shetland. "There's no oil refinery there, so it has to be exported abroad and then re-imported once it's refined for use in cars and domestic use. So Shetland faced the highest fossil fuel costs in the UK, and some of the highest rates of fuel poverty."
In the boom years, islanders referred to oil and gas industry jobs as "golden handcuffs", since they poached local labour from traditional industries by paying astronomically higher rates. Now, with the imperative to decarbonize and the consequent decline of fossil fuels, there are pressing economic questions about Shetland's future. These are the thorny details that Cohen is interested in, because when it comes to jobs, it's not a simple 1:1 transition to clean energy.
"At peak operations, there were about 1,000 jobs in the [oil] terminal. If you compare that to the wind farms – labour goes into the installation and construction, but they basically just operate themselves. So there are about 35 jobs associated with the biggest wind farms. Scale is a big question for the transition; has the green economy got the capacity to really provide the sort of employment the oil and gas industry provided?," he says.
Currently, Shetland's largest renewable project is an onshore wind farm known as Viking. This consists of 103 turbines, generating 443 megawatts or about 45 Shetlands worth of power. As it's the windiest place in the UK, the government and renewables companies all depend on Shetland to hit their targets. An interconnector is also being built from Shetland to the UK mainland to transport the excess electricity being generated. This will bring benefits, as it will finally connect the islands to the national grid, but there has been local resistance to the building of the wind farm, and the reasons behind this are also complex.
"No one has really conducted an official poll of opinion in Shetland on support for wind farms, but the local newspaper did a poll and they basically found that a third of the population were in favour, a third against and a third don't know," says Cohen. "But there have been some very vocal protesters."
The turbines are large enough to be visible from the boat as you travel to the islands, so some locals have argued against the visual impact and called it an "industrialization" of the area. This doesn't quite ring true, says Cohen, given how actively the region has been engaged in the extractive industry for many years, but he can see how this argument arises. "The oil terminal is quite hidden from society. It's located on the shore on the north of the main island. Whereas the wind farm runs right through the middle of the island, so that's part of the reason it was protested."
The project was also significantly delayed by ecological arguments. Protesters alleged that the installation of the turbines would involve disturbing so much of the peat bog (which is an important carbon sink) that it would emit more carbon than it would save, yet the developers argued they had done their due diligence and the site consisted of already degraded peat. Construction eventually started in 2020 – 17 years after it was initially planned – but Cohen says this delay may ultimately have cost the locals a great deal in lost revenue. At the start of the project, the local council originally had a 50% stake of ownership in the wind farm, and the other 50% was owned by a multinational company. The long delay caused the council to pull their stake, so now the project is 99% owned by the multinational.
Amidst a lot of blame gaming, however, he says the UK government also has a responsibility to actively support and facilitate local ownership of renewable energy projects. Currently, there is no mandate for companies to be in partnership with local councils on major projects like this.
So what comes next for Shetland? Opportunities abound to repurpose much of the oil and gas infrastructure both onshore and offshore, and the council are considering hydrogen as a potential route to full decarbonization. The Viking wind farm is currently under construction and due for completion in 2024. With this, the islands have likely maxed out their potential when it comes to onshore wind, says Cohen, so those battles may be laid to rest for the moment. But the economic path forward still isn't certain, he says, and he would like to see a clearer plan for the just transition laid out by both the Scottish and UK governments.
"In the UK, we are presented with two options. On the one hand, the UK government is committed to extracting as much oil and gas as is economically feasible from the North Sea. On the other hand, environmentalists are framed as extremists for asking to "just stop oil". I think what we need is a public management approach to winding down oil and gas — a ban on new explorations in the North Sea secured through public/community ownership of energy resources."
Max Cohen is a PhD candidate in the Department of Geography, and a UBC Public Scholar. His research into just transition policy in Shetland and Taranaki is ongoing. You can learn more about his work here.
All images courtesy of Max Cohen.