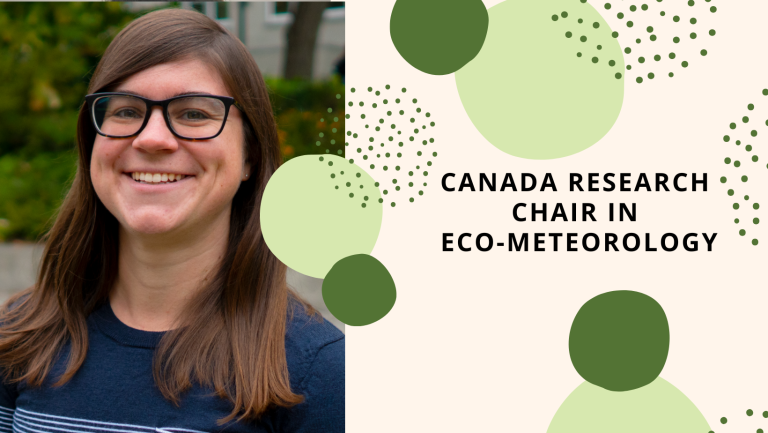 Assistant professor Sara Knox has been named Canada Research Chair in Eco-Meteorology, in recognition of her work and contributions to the field.
The Canada Research Chairs Program enables Canadian universities to achieve the highest levels of research excellence and become world-class research centres. Chairholders improve our depth of knowledge and quality of life, strengthen Canada's international competitiveness, and help train the next generation of highly skilled people through student supervision, teaching and the coordination of other researchers' work.
Dr. Knox's work focuses on how land atmosphere exchanges of greenhouse gas fluxes respond to a changing climate and disturbances, and how land management practices can be modified for climate change mitigation and adaptation
Among the many ecosystem services provided by wetlands, climate regulation is identified as one of their most important benefits to society. Wetland ecosystems play an important role in the global carbon cycle, storing large amounts of carbon in their soils, yet they are also the largest single source of methane emissions. Climate change has the potential to increase greenhouse gas (GHG) emissions from wetlands, however, the consequences of rising temperatures on wetland GHG budgets remains uncertain. Furthermore, preventing further wetland loss and restoring wetland ecosystems has been identified as important in limiting future emissions to help meet climate goals.
Dr. Knox and her team take an interdisciplinary approach to provide a better understanding of how wetland responses to climate variability and restoration can slow or accelerate future climate change. Specifically, her integrated GHG Research and Observations in Wetlands (iGROW) research program combines field-based measurements, remote sensing, and modelling to provide new insights into the controls on wetland GHG dynamics, and quantify the potential climate benefits of wetland management and conservation.
You can learn more about Dr. Knox's work below: